To build leaders from all walks of life who can re-imagine a stronger Waikato from a social, environmental, cultural and economic perspective. These leaders take charge of their lives while influencing others positively, resulting in a significant contribution to Waikato communities, society, and New Zealand as a whole.
DESIGNED FOR REGIONAL IMPACT
Driven By Three Key Principles
Harnessing Partnerships
Ensuring our region has healthy connections and increased social capital means we create greater positive impact.
Nurturing Diversity & Inclusion
Working with diverse people, backgrounds, and experiences creates an environment of learning, understanding and inclusion.
Increasing Regional Prosperity
Increasing leadership capability across business and community creates a stronger economy and improved social health.
WHAT DO YOU WANT TO DO NEXT?
February 23, 2021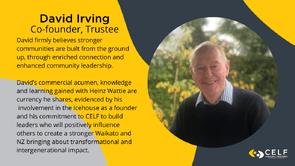 We recently started a series of blogs profiling CELF board members to give you insight into the people behind the Foundation. Next up is CELF's Co-founder David Irving. We asked David a series of questions, and these were his answers....
read more
Podcasts
Join us on our latest podcast as we speak with leaders about their leadership journey.